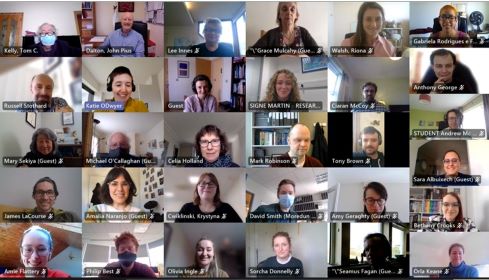 Due to the ongoing pandemic situation we moved online for our annual meeting, which took place on March 26th, 2021.
We were delighted to be joined by plenary speaker Professor Elizabeth Innes (Moredun Research Institute, Edinburgh Scotland) who presented a talk titled Toxoplasma gondii: The world's most successful parasite?

Keynote speakers included Prof Russell Stothard (Liverpool University) and Prof Tom Kelly (University College Cork).
---
2019
Queen's University Belfast (QUB), Northern Ireland.
JOHN GILLEARD, University of Calgary, Canada. Benzimidazole resistance in Haemonchus contortus.
The 'Prof. William C. Campbell Award for PhD Candidates' sponsored by Cambridge University Press (publishers of Parasitology) was awarded to Paula Tierney, then at Trinity College Dublin.

2018
Palace of the Academies, Brussels, Belgium (held jointly with BSPP, ISP, BAVP & EVPC).
GREG MATLASHEWSKI, McGill University, Canada. CRISPR genome editing in Leishmania.
RICHARD WALL, University of Bristol. Tick and tick-borne diseases in the UK: the lessons from large scale surveillance studies.
GUY HENDRICKX, AviaGIS, Zoersel, Belgium. VecMap: bridging the gap between research and decision making.
JEREMY SALT, Galvmed, Edinburgh, UK. The Animal African Trypanosomosis (Tryps) Programme by GalvMed and the Gates foundation: how do we enable substantial and sustainable solutions for African farmers?

2016
Trinity College, Dublin
MARK TAYLOR, Liverpool School of Tropical Medicine. Exploiting the symbiosis of Wolbachia and filarial nematodes for new treatments for lymphatic filariasis and onchocerciasis.
2015
Queen's University, Belfast
PHILIP SKUCE, Moredun Research Institute. Anthelmintic resistance progress?
2014
University College Dublin
Joint meeting of the Irish Society for Parasitology, British Association for Veterinary Parasitology and the European Veterinary Parasitology College. Theme Parasite Vaccines – Are We There Yet? - with seven key-note presentations
JOHN DALTON. Fasciola hepatica vaccines? It's been a bumpy, winding road with no clear signs!
THEO SCHETTERS. Vaccination against canine babesiosis
DAVID SMITH. Barbervax: potentially a new tool for the control of Barber's Pole worm of sheep
MARSHALL LIGHTOWLERS. Recombinant anti-parasite vaccines that actually work: anti-cestode vaccines
FIONA TOMLEY. Advances in vaccination strategies for Dermanyssus gallinae
LUIGI GRADONI. Canine Leishmania vaccines: still a long way to go
RON HOKKE. Schistosoma vaccines

2013
Dublin City University, Dublin
PADRAIC FALLON, Trinity College, Dublin. Researching tropical parasitic helminths in Dublin: did you know Ireland is not in the tropics?
MARK ROBINSON, Queens University, Belfast. Helminth defence molecules - utility players in the host-parasite interaction

2012
Trinity College, Dublin
ERIC MORGAN, School of Biological Sciences, Bristol University. Climate change and parasites: hot air or a damp squib?

2009
Veterinary Research Laboratory, Backweston, Co. Kildare (with the BVA)
SARAH RANDOLPH, Dept of Zoology, Oxford University. Increasing tick-borne diseases: environmental and socioeconomic drivers

2008
University College Cork, Cork.
EILEEN HARRIS, Natural History Museum, London. Helminth parasites in stranded cetaceans
2007
Meeting with the British Society for Parasitology, Queens University Belfast
2006
Central Veterinary Research Laboratory, Backweston, Celbridge, Co. Kildare.
NOEL MURPHY, National University of Ireland, Maynooth, Co. Kildare. Do African trypanosomes talk to each other?

2005
Ramada Hotel, Belfast (in association with SafeFood)
ANNE BURNELL

, National University of Ireland, Maynooth, Co. Kildare.

Gene discovery and transcriptomic analysis in insect parasitic nematodes



2004
Central Veterinary Research Laboratory, Abbotstown, Dublin.
ANDY FORBES, Merial, UK. The effects of parasites on host behaviour

2003
Joint meeting with the British Association of Veterinary Parasitology, York University
2002
Faculty of Veterinary Medicine, Belfield, UCD, Dublin.
BERNARD LOSSON, University of Liège, Belgium. Echinococcus multilocularis in southern Belgium
2001

Trinity College, Dublin
RICHARD TINSLEY, Bristol University. Regulation of parasite infection levels: a case study based on monogeneans
2000
Central Veterinary Research Laboratory, Abbotstown, Dublin.
PAUL DEAR, MRC Molecular Biology, Cambridge. Parasite genomes: don't worry, be happy.