---
SOCIETY AGM 2021 ANNOUNCEMENT

Dear ISP members,
We hope all is well with you at this time. Due to the ongoing pandemic situation we are going online for our annual meeting, which will take place on March 26th, 2021.
We are delighted to be joined by Professor Lee Innes, our plenary speaker and we would like to invite all members to contribute an abstract for an oral presentation during the annual meeting.
Exclusively for our PhD student members, the 'Prof. William C. Campbell Award for PhD Candidates' will be up for grabs for the best PhD student member presentation, with sponsorship from Cambridge University Press (publishers of Parasitology).
The award includes a copy of Prof. Campbell's fascinating biography 'Catching the Worm' reflecting on his early research days and events leading up to and after his Nobel Prize Award. The winning student will also receive a £/€250 prize.
All submissions are due by 5pm on February 26th, 2021, and they can be submitted by email to irishsoc.parasitology@gmail.com. Importantly, those entering the competition must label their file with 'Abstract' in the subject line.
Register for the meeting here.
With that, we look forward to interacting with you all online in March.
Best wishes,
ISP Committee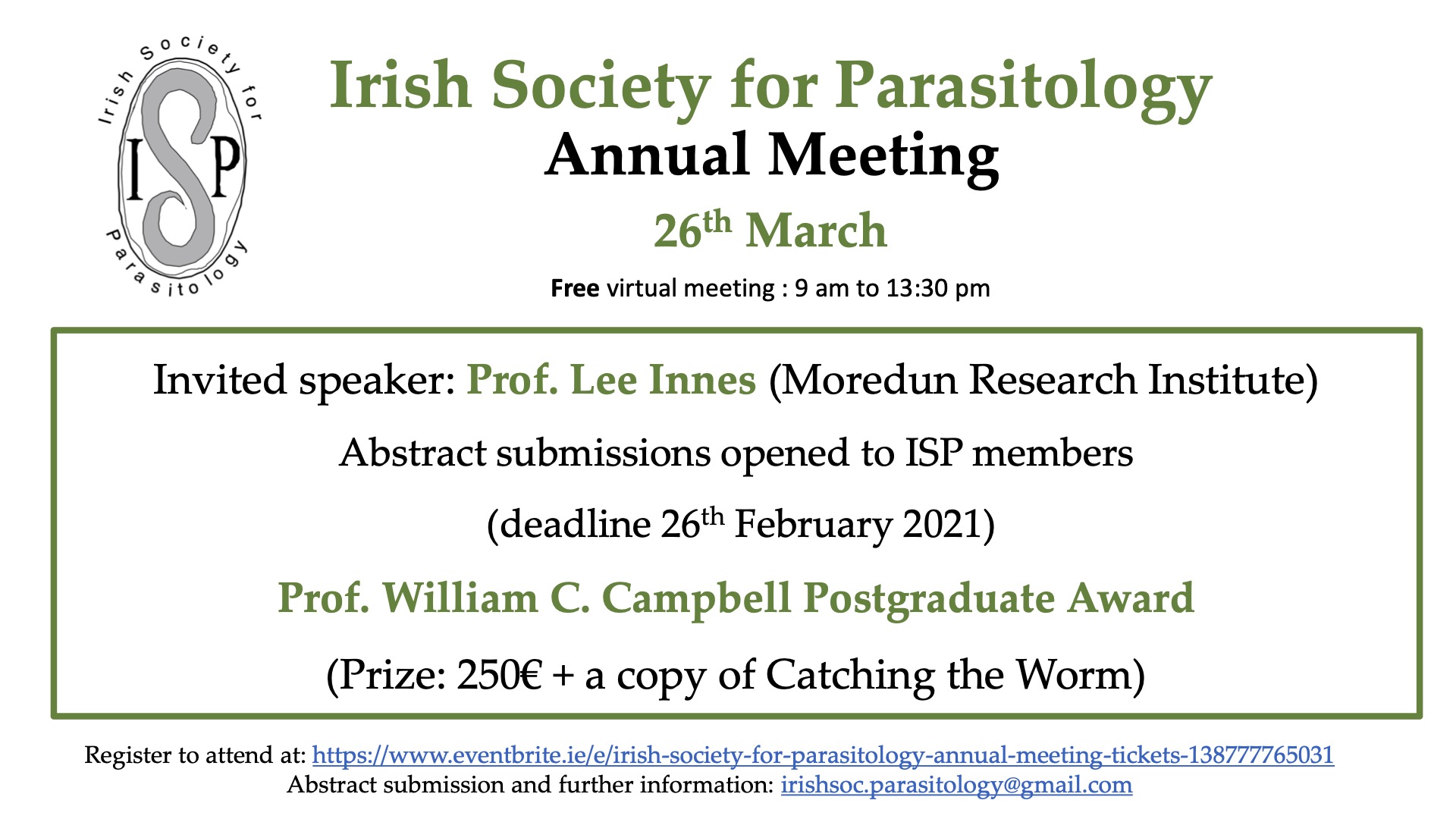 ---

The ISP will host an afternoon session on 'Eclectic Parasitology' at the upcoming WAAVP meeting on Tuesday, July 20th 2021. Further details will be shared soon.
---
---
The society was founded in 1993 with the aims of advancing the study of parasitology, facilitating communication with those interested in parasitology, promoting the dissemination of information and development of resources for teaching and research in parasitology.
The key activity of the ISP is the annual scientific meeting and AGM, which is an opportunity to share research results and network with members of the Irish parasitology community. Postgraduate research students are especially encouraged to present their work and an award is given annually for the top student presentation.

Follow us on Facebook or Twitter.
E-mail irishsoc.parasitology@gmail.com .